Etta James

Information
Birth name
Jamesetta Hawkins
Also known as
Miss Peaches, The Matriarch of R&B
Born
January 25, 1938
Birth place
Los Angeles, California, U.S.
Genres
Blues, R&B, soul, rock and roll, jazz, gospel
Occupation(s)
Singer
Instruments
Vocals
Etta James (born Jamesetta Hawkins; January 25, 1938 – January 20, 2012) was an American singer. Her style spanned a variety of music genres including blues, rhythm and blues, rock and roll, soul, gospel and jazz. Starting her career in 1954, she gained fame with hits such as "The Wallflower," "At Last," "Tell Mama," "Something's Got a Hold on Me," and "I'd Rather Go Blind" (for which she wrote the lyrics). She faced a number of personal problems, including drug addiction, before making a musical resurgence in the late 1980s with the album Seven Year Itch.
James is regarded as having bridged the gap between rhythm and blues and rock and roll, and is the winner of six Grammys and 17 Blues Music Awards. She was inducted into the Rock and Roll Hall of Fame in 1993, the Blues Hall of Fame in 2001, and the Grammy Hall of Fame in both 1999 and 2008. Rolling Stone ranked James number 22 on their list of the 100 Greatest Singers of All Time and number 62 on the list of the 100 Greatest Artists.
Adele has stated that James is her biggest musical influence.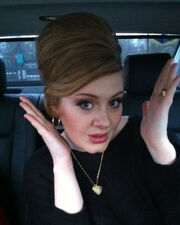 Aged 14, Adele discovered Etta James and Ella Fitzgerald by accident as she stumbled on the artists' CDs in the jazz section of her local music store and was struck by their appearance on the album covers. She originally wanted the Etta James records because she wanted an "Etta James beehive" hairstyle, which she eventually asked her cousin (a hairdresser) to do for her. Adele "started listening to Etta James every night for an hour," and in the process was getting "to know my own voice." Ever since then, Adele has been a big Etta James fan.
Adele has covered three Etta James songs to date. She covered James's "Fool That I Am" at the iTunes Festival, on select dates of the An Evening With Adele tour, and for the B-side to the re-release of her single "Hometown Glory." Adele also performed James's "I'd Rather Go Blind" during select performances of the An Evening With Adele tour. She performed Muddy Waters' "I Just Wanna Make Love to You," which was covered by James for her album At Last!, with Jools Holland and his Rhythm & Blues Orchestra for his annual New Year's Eve music show, Hootenanny, in the 2008/2009 edition.
One of the last performances on the An Evening With Adele tour took place at the historic Hollywood Bowl. Etta James was supposed to appear at the performance but cancelled at the last-minute due to illness and was replaced by Chaka Khan.
Ironically, Adele's second biggest influence, Beyoncé, was also heavily influenced by Etta James and played her in the film Cadillac Records.
Adele has spoken about Etta James on several occasions.
| | | |
| --- | --- | --- |
| " | Everything she sings — you believe her, even if she never wrote a word of it herself. I saw her live in New York not so long ago: extrordinary. There she was, at the age of 71, singing 'I want to ta ta you, baby' — almost groping herself, as if the meaning wasn't clear enough already. She just had so much attitude.[1] | " |
| | | |
| --- | --- | --- |
| " | Etta James is the only artist I've ever properly believed when I listen to her. I feel her pain.[2] | " |
| | | |
| --- | --- | --- |
| " | Sometimes it's an oppressive thing to sing songs that are really sad. There's an honesty to them that blows me away. Not that [she was always writing her] own songs, but the way she sang them sounds like she had everything to do with that song. It's a good thing to be honest.[3] | " |
| | | |
| --- | --- | --- |
| " | Etta James is my favourite singer. I`ve loved her ever since I was 15. Initially it was because I loved the way she looked — the big kinda white-woman weave and her beautiful, catty eyes! But then, once I actually listened to her, though she didn`t really even write any of her own songs, I found that her delivery was just so sincere that she really could convince me she was singing directly to me. Which is something I`ve never ever found in any other artist.[4] | " |
When interviewed about covering "Fool That I Am," Adele said:
| | | |
| --- | --- | --- |
| " | So because — with me only having one album — I felt I needed to beef-up my live set by introducing covers, I decided to include 'Fool That I Am' in my show. You know, it was a song that just changed everything for me. It inspired me to want to write my own songs, to be honest and to try and touch people. Basically I think it`s a beautiful song, I love singing it... And so I thought it would be nice for my fans if I included it on this single ["Hometown Glory"].[4] | " |
When Adele included "Fool That I Am" on Adele's Playlist, a playlist released on the UK iTunes Store featuring Adele's favorite songs, she was quoted in the playlist's description on the iTunes website as saying:
| | | |
| --- | --- | --- |
| " | She's my favourite singer ever. She's got the richest voice in the world! This is just one of my many, many favourites.[5] | " |
On the day of Etta James's death, Adele uploaded a blog post to her official website in memory of the singer, saying:
| | | |
| --- | --- | --- |
| " | What a lady Etta James was. She was the ultimate original. Her voice was breath taking and her songs are reflections we all recognise in some way or another. Its an honour every time I hear her voice. I saw her at BB Kings in New York a few years ago, and it was something I will remember forever. Thank you to Etta James. And i send all my love to her family and friends xxxx [sic][6] | " |
Community content is available under
CC-BY-SA
unless otherwise noted.