Jurassic World: Dominion Dominates Fandom Wikis - The Loop
Play Sound
Paul Epworth

Information
Birth name
Paul Epworth
Born
July 25, 1974
Birth place
London, England
Genres
Indie rock, punk rock, hip hop, pop, dance
Occupation(s)
Record producer, songwriter, musician, remixer
Instruments
Drums, bass, guitar, keyboard, trumpet, percussion
Labels
Columbia Records
Paul Epworth is an award-winning British music producer, musician, and songwriter. His production and writing credits include Adele, Florence and the Machine, Cee Lo Green, Foster the People, John Legend, Azealia Banks, Paul McCartney, Bruno Mars, Plan B, Crystal Castles, Friendly Fires, Bloc Party, Annie, Chapel Club, Primal Scream, The Rapture, Jack Peñate, Kate Nash, and Maxïmo Park. On February 12, 2012 at the 54th Grammy Awards, he won four Grammy Awards for his work with Adele — Producer of the Year, Album of the Year (for 21), and Song of the Year and Record of the Year (for "Rolling in the Deep"). He won the Academy Award for Best Original Song, alongside Adele, for "Skyfall."
His sister Mary is a singer and songwriter. Epworth is a member of the Music Producers Guild, and also has a record label, Wolf Tone, whose artists include Glass Animals, Rosie Lowe and Plaitum. He has won Producer of the Year at the BRIT Awards three times, the most recent in 2015.
Work with Adele
[
]
Released tracks
[
]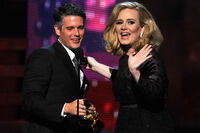 In 2009, Epworth co-wrote and produced "Every Glance," which was performed by Jack Peñate and featured vocals from Adele.
Late 2010 saw the release of "Rolling in the Deep," the lead single from Adele's sophomore album, 21. The track was co-written and produced by Epworth. 21 features two additional Epworth co-writes with Adele, of which he also produced "I'll Be Waiting," while "He Won't Go" was produced by Rick Rubin. In 2012, Epworth won a Grammy Award for Producer of the Year.
In 2012, Epworth co-wrote the theme song for the twenty-third James Bond film, Skyfall, with Adele. The collaboration had been rumored to be in the works for months. It was officially confirmed on October 1, 2012, after months of speculation and hints from various people, including OneRepublic frontman and Adele co-writer Ryan Tedder. The song, entitled "Skyfall," was released on October 5, 2012. It went on to win the Golden Globe and Academy Award for Best Original Song, as well as the Grammy Award for Best Song Written for Visual Media.
At the Grammy Awards in 2013, Adele hinted that Epworth would be the first person approached for her third studio album. He and Adele wrote extensively for the album, titled 25. Two of the songs that they wrote together made the final cut of the album — "I Miss You" and "Sweetest Devotion."
Cut tracks
[
]
He also co-wrote and produced several tracks from 21 that were cut, all of which were co-written with Adele and registered onto her BMI:
Songwriting processes
[
]
"Rolling in the Deep"
[
]
We know her music, but what is Adele like to collaborate with?
| | | |
| --- | --- | --- |
| " | She's very focused, and she is an absolute professional, even down to being punctual. She's just a joy to work with, and she keeps in touch as well. One of the funny things of being a producer, you have these fleeting, intense relationships with people, and they go off to global megastardom, and you don't see them. | " |
Tell us a little about how "Rolling in the Deep" came about.
"
I had all these chords I thought would be perfect for her. You know, little musical riffs or themes. I tried all these out on her for about two hours. She literally sat there with a pen in her hand staring blankly, and she just went, "I'm not feeling anything." And then she went, 'I've got this riff, this idea, that's going round and round my head,' and I went, 'Go on then, what is it?' And she went, [sings] 'There's a fire.'

I said wow, and I just grabbed a guitar and quickly tried to figure out what the key was. She had all the verses, that thematic melody that she uses all through the song. I put all the verses down as one long recording, and then we put spaces in the track to start work on a prechorus and a chorus. We wrote the core of the song — her verses and the chords — in under 15 minutes. And the rest of it was structured over two hours.

"
Her vocal track that you recorded that day for a demo ended up on the album. Why didn't you redo it?
| | | |
| --- | --- | --- |
| " | Adele was going through something. She had had her heart broken, and she was in pieces, and you can really hear that, her anger and her sadness. Sometimes I just don't think you can recreate that or fake it. My hunch is that we captured something in her vocal performance that was going to be very hard to recreate. | " |
Who generally comes up with the ideas in your collaborations with her?
| | | |
| --- | --- | --- |
| " | A good musical collaboration is like a Jackson Pollock of musical paint, where everyone's throwing ideas at a canvas and some of them stick and some of them don't, and the final picture you end up with is a combination. She'd come forth with an idea, and I'd say, 'How about this,' and it develops and hybridizes on its own into something. | " |
Do you think her success with this raw, soulful album might herald an end for the manufactured pop diva?       
| | | |
| --- | --- | --- |
| " | Every musical scene has a cycle. Something about who she is and her artistic identity really struck a chord in people, and that means there was a place in people's musical affections to be filled. I think there was a gap in the market. You only have to look at everyone trying to mimic that now. The calls you get, people saying we want someone to sound like Adele. | " |
"Skyfall"
[
]
How did you first get involved with this song?
| | | |
| --- | --- | --- |
| " | Initially I was asked to go read the script [for 'Skyfall'] to see if it was something I wanted to get involved with – with Adele. I read the script and sat around thinking about what to do for about three months and finally something popped into my head I put some music together and rang Adele up and said, 'I think I've got something — do you want to have a listen?' And she came down and within an hour we had pretty much written most of the song. | " |
What triggered the idea?
| | | |
| --- | --- | --- |
| " | I think there is something very powerful in themes of death and rebirth, there's new identity, there's something in that that's classic and goes back to the history of great Bond films. To do something that started in a dark place and ended up euphoric was a real challenge. | " |
What was your working process with Adele like?
| | | |
| --- | --- | --- |
| " | This one was a bit different from our usual working method. She had a lot of ideas to think about, lyrics and context and how to narrate the story, and I had just been sitting trying to find a mood and a musical palette, if you like. I had a lot of strong ideas when she came in but it was all just music. She came in with the vocal. She knows how to deliver. She always delivers. | " |
She had recently had vocal surgery. Did it affect the way she worked?
| | | |
| --- | --- | --- |
| " | I think she was restrained in the early part in the first session. I think the first vocals you hear on the track, it was the first thing she sang outside of her therapist's office. She was very tentative, and I think that helped shape the feeling of the song. When we came back to cut it in May, she had been singing quite a bit, so in some of the later parts of the song I think she sounds much more confident. It definitely is a difficult thing to go through as a singer. | " |
Did you study past Bond songs before you co-wrote this one?
| | | |
| --- | --- | --- |
| " | There's a musical coloration that Bond songs have running through all of them and I think you have to study them to find out what that is. | " |
References
[
]