Simon Konecki

Information
Birth name
Simon Christopher Konecki
Born
April 17, 1974
Occupations
CEO for Drop4Drop
Relationship to Adele
Ex-husband, father of son
Simon Christopher Konecki is Adele's ex-husband and the father of her son, Angelo, born October 19, 2012. Konecki is also the CEO of Drop4Drop, a charity that provides clean drinking water to developing countries.  
Konecki's relationship with Adele has been the subject of much media speculation despite Adele's attempts to keep it private. On several occasions, they were rumored to have secretly wed, which Adele repeatedly denied until her Album of the Year acceptance speech during the Grammy Awards in 2017, where she confirmed they had married. 
In April 2019, Adele announced she and Konecki had separated after more than 7 years together. 
Biography
Early life and career
Simon Konecki lived in New York for the first ten years of his life before moving to London, where he attended the prestigious boys school Eton for two years. He served as director of investment group EBS.[1] While studying in England, Simon met his future business partner, Lucas White. At the age of 17, Simon became a foreign exchange broker. Seven years later, he started running teams of senior brokers at Lehman Brothers. Three years later, he left Lehman, believing that his connections, knowledge, and persuasive personality could be used to make a better impact on the world. He reconnected with White, presented his idea for Life Water, and raised enough money to eventually launch the brand and its charity Drop4Drop.[2]
According to the Facebook page for Life Pure Water, Simon is an ex-investment banker who became "appalled by the growing distance between rich and poor. [He] felt that water was a human right and wanted to explore why we let it happen when fixing it is relatively easy." Drop4Drop is supported by British actor Sid Owen, who has been Simon's friend for more than 20 years, and the comedian Stephen Fry.[3]
In 2004, Konecki wed fashion stylist Clary Fisher. In 2007, Fisher gave birth to their daughter.[4] They divorced in 2008.[5]
Relationship with Adele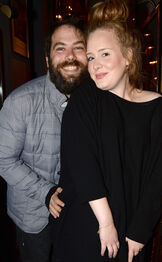 In January 2012, Konecki was seen vacationing with Adele in Florida, visiting the Everglades National Park. Soon after they were seen on the beach, they were seen boarding an alligator-spotting airboat.[6] Adele had previously told her fans she would join Twitter if they followed Konecki's charity, Drop4Drop, on the social media platform, further adding to speculation they were dating.[7]
Soon after Adele and Konecki were first spotted together, it was reported that he had started his relationship with Adele before his divorce from Fisher had been finalized.[8] However, Adele denied these reports in a blog post on her official website, stating that they were in a relationship, but that Konecki had been divorced for 4 years.[9]
On October 19, 2012, Adele and Simon welcomed their first child together. After months of speculation, the child's name was revealed to be Angelo James Konecki.
After years of speculation, Adele confirmed that she and Simon had privately wed by referring to him as her husband during her acceptance speech for Album of the Year at the Grammy Awards in 2017. She reaffirmed these statements during a show in Australia in March 2017.[10]
In April 2019, Adele confirmed that she and Simon had separated after more than 7 years together.[11]
Trivia
Konecki's nickname is "Swampy." When asked about it, he said:
| | | |
| --- | --- | --- |
| " | When I was in the City they used to call me Swampy, after that kid who tunnelled under Manchester Airport runway. Probably due to my long hair and Leftie views.[12] | " |
Konecki is often referred to as a Zach Galifianakis look-alike.[13]
When asked which celebrity he would hire if he could, he responded saying, "Snoop Dogg — to answer the phones with his dulcet tones."[14]
When receiving her Golden Globe for Best Original Song for "Skyfall," Adele thanked Simon for encouraging her to record the song.
Simon served as an inspiration for Adele's third studio album, 25, with Adele stating that she will "never be devastated again." She has also stated she would never write another breakup record, making reference to dedicating all of 21 to a previous lover.[15] "Water Under the Bridge" specifically was inspired by their relationship, although she also wrote "Remedy" in part about him. "I Miss You," "Lay Me Down," and "Why Do You Love Me" are all assumed to be written about him as well.
Adele has stated that when she felt nervous about her performance at the Oscars in 2013, she called Simon and he calmed her nerves.[16]
Konecki and Adele celebrated their five-year anniversary on October 17, 2016. To celebrate, he surprised her on tour by replacing some of the usual white confetti that rains down during "Rolling in the Deep" with pink confetti that contained handwritten notes to her.[17]
References