Hello everyone! :) Yes, the final week of Christmas With Adele has finally come. :) First of all, voting has closed for the top Adele song so far (the complete list can be found here), and "Someone Like You" prevails at the number one spot with 17 votes, followed by "Set Fire to the Rain" (which had a total of 7 votes) and "Rolling in the Deep" (3 votes). "I'll Be Waiting", "Rumour Has It", "Lovesong", "Don't You Remember", "Right As Rain", "One and Only", and "Chasing Pavements" also made the top 10, each having one vote (except for "I'll Be Waiting", which had 3 votes, and "Rumour Has It", which had 2 votes). "Many Shades of Black" and "Make You Feel My Love" also received one vote. None of the other songs received any votes.
And in other news, Wikia's holiday card thast they have composed full of messages from other wikis has recently been released, and it includes the Adele Wiki! You can find the holiday card here, but I posted the image I created for it right here for you guys: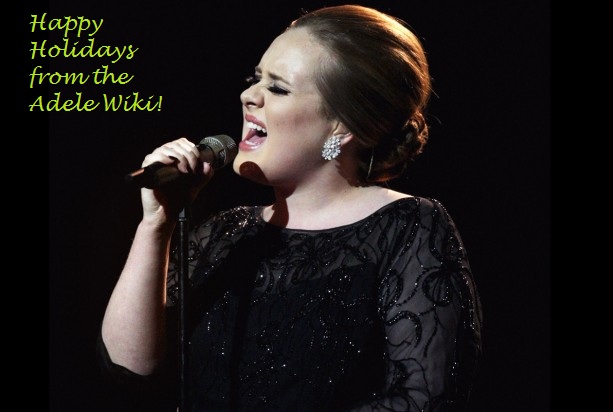 And to finish up the Christmas With Adele blog posts, we are counting down the top 3 Adele items to have on your Christmas wishlist this year:
3. "Rolling in the Deep" T-Shirt
"Rolling in the Deep" has recently been proclaimed the most popular song of 2011, so why wouldn't you want a T-shirt like this to promote it? This exclusive Adele T-shirt can be bought on her website at The Official Adele Store. In order to buy this item, please go here.

2. Live At The Royal Albert Hall
Live At The Royal Albert Hall is Adele's latest DVD/CD concert film, so if you're looking for an excellent blend of songs from both 19 and 21, then this is a great idea! The performances sound exactly like the album versions with an excellent twist.
1. 21
This is the perfect treat for any Adele fan -- the best-selling album of the year and by far the best of all-time, in my opinion, this album is perfect for anyone. It has excellent blends of different styles of music, ranging from pop to rock to soul to blues, it has a little bit of everything. It's the perfect idea for any music lover.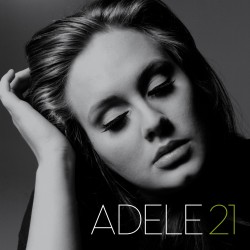 Happy Holidays, Everyone!