Recently, Adele has embarked on her Adele Live tour, and unfortunately, has confirmed that she has a chest infection and severe cold. The pop singer is slowly recovering, although she is still too ill to return to her tour. The singer has posted the following message for her fans on her blog:
| | | |
| --- | --- | --- |
| " | im still not well enough. i woke up feeling a bit better but not by a lot, but decided to head towards cardiff anyway in the hope id be able to sing tonight. half way there i realised it was unrealistic and so have come back home to rest. i apologise profusely, i know many of you would have travelled to cardiff today for the show. im so so sorry! i need to wait until the infection has cleared up, theres no use battling through it because itll only make me weaker. im still breathless and my chest is disgusting. believe me im doing everything i can to get better asap i promise. its a bug and i have to wait til its gone. im not doing half hearted performances for anyone. | " |
She also posted a picture of herself: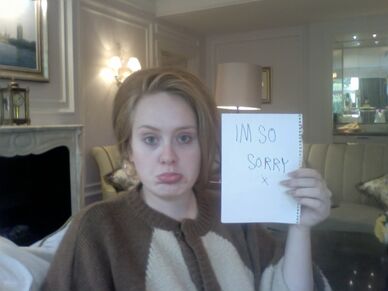 We "wish nothing but the best for you", Adele.